Request a FREE Low Vision Guide today!
PRODUCTS
Acrobat LCD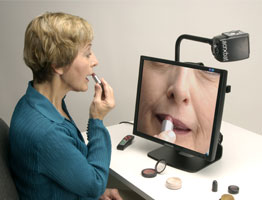 The most flexible 3-in-1 video magnifier is ideal for near, distance and self viewing. By rotating the camera, you can read, write, groom, and magnify images at any distance. The Acrobat offers a complete system for those at work, school or home.
Key Features
3 in 1 camera technology with memory for favorite settings
Arm slides to the right and pivots to the front for a full inline position offering an optimal viewing experience
Dual keypad for easy to access controls
Detachable camera rotates 340° degrees
5ms high resolution 19″ or 22″ LCD monitor
Auto focus
Seven (7) viewing modes
Up to 65x adjustable digital magnification
Rolling carrying case for easy transport (sold separately)
Set-up is easy – just plug and play
Computer toggle capability
2 year warranty
Line markers, object locator, remote control and more…..
Acrobat LCD 19" $1,995
Acrobat LCD 19" w/Rolling Case $2,095
Acrobat Options:
Extra Set-up Arm & Clamp (any Acrobat HD ultra Arm) $345
Full Size X-Y Table $250
XY Mini Table $150
Acrobat HD ultra LCD Rolling Case 24″ $170
Acrobat HD ultra LCD Rolling Case 20″ & 22″ $145
Acrobat HD – mini ultra Rolling Case $115
VGA Toggle Box (Acrobat LCD 19″) $40
DVI Toggle Box (Acrobat HD ultra) $75