Request a FREE Low Vision Guide today!
PRODUCTS
Merlin Desktop Magnifiers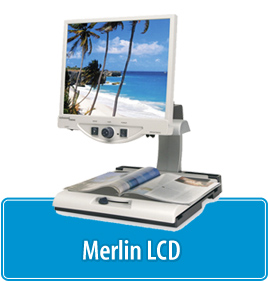 "The Merlin is the best investment I have made for myself in a long time. Nobody can put a price tag on being able to read, write and see my mail again!"
– Jeff Helms, CA
From simple digital magnifiers to advanced video magnification systems, these products offer brilliant true-to-life color, black and white images and a variety of screen sizes and magnification levels. These high quality video magnifiers by Enhanced Vision have been doctor recommended and customer approved.
Key features
Slimmer profile, weighs less
Long lasting LED lighting for truer picture and color
Simple, easy to use controls
Available in 19″ and 22″ monitors
Ships in one box, simple to unpack, just plug in and begin
3 year warranty
Screen easily pivots, both horizontally and vertically to provide the most comfortable viewing position
Highest quality Samsung® LCD for the best image resolution
Wide range of adjustable magnification from 2.4x to 77x
Computer Compatible
You can personalize the image with 7 viewing modes
Merlin LCD 24" Flat Panel Monitor $2,895
Merlin LCD 22" Flat Panel Monitor $2,795
Merlin LCD 20" Flat Panel Monitor $2,695
Merlin Base Family:
Merlin Color VGA Base (w/out monitor) $1,695
Merlin Options:
Ultra Pack for Merlin HD/ultra $150
Feature Kit for Merlin LCD $150
Footswitch Ultra Kit $50