Request a FREE Low Vision Guide today!
PRODUCTS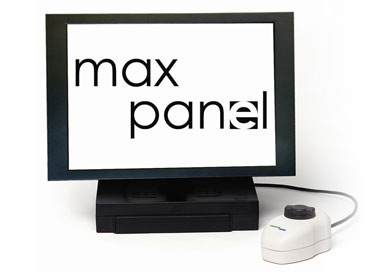 Max 12″ Portable Viewing Panel
The Max Panel features an integrated 12″ LCD screen in a lightweight package for magnification on-the-go. A built-in rechargeable battery can provide power to the Max Panel for over 4 hours, allowing you to read and write wherever you are.
Key Features
12″ LCD screen
Integrated rechargeable battery
Provides up to 4 hours of lightweight and portable magnification
Max w/12" Flat Panel Monitor (B/W) $1,395
Max w/12" Flat Panel Monitor (Color) $1,495
Max Options:
MaxTrak $20
Max Writing Stand $20
Soft Shell Carrying Case (Max) $40
Soft Shell Carrying Case (Max Panel) $50
Accessories:
USB Bridge – Battery Power Source $395
USB Smart Video – Laptop Adaptor $149
VGA Smart Video – Computer Adaptor $149
12" Panel Upgrade Kit $1,145
Extra Panel Battery $200
Stay Flat Plexiglass Reading Material Cover $15